Aksos Suites Accessible Accommodation
Family environment, holidays accessible for everyone and connecting with nature are the three principle on which we based our creation of 'Aksos Suites Accommodation'.
We are a solely family run business and our main aim is to ensure our visitors enjoy our Cretan hospitality safely and in comfort. We have made every effort to ensure we have, or can obtain, the specialist equipment as required. We live and work in the complex ensuring a high quality of service.
CERTIFICATION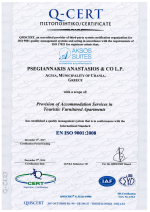 Aksos Suites Accessible Accommodation guarantees the continuous improvement of the Quality Control System through the employment of activities that support an objective goal-accomplishment monitoring procedure and the elimination of any cause that hinder this purpose. Aksos Suites Accessible Accommodation has established a quality management system that is in conformance with the EN ISO 9001:2008 – Cert. No 021214/4986.
Family business
Aksos is a new compound built energy efficient and the buildings comprise of four luxurious apartments inside our complex . We have operated since 2015, and are located on a green hillside in an area of Chania that is surrounded by olive trees. The mild climate here, especially during the winter, and the bio climatic design of our apartments ensure a relaxing and pleasant stay.
Our visitors enjoy the amazing view of a green plain with orange, lemon and avocado trees. The slopes of the ground allow you an uninterrupted view of the beautiful lake of Agia (NATURA) and the mountains of Chania (Lefka Ori)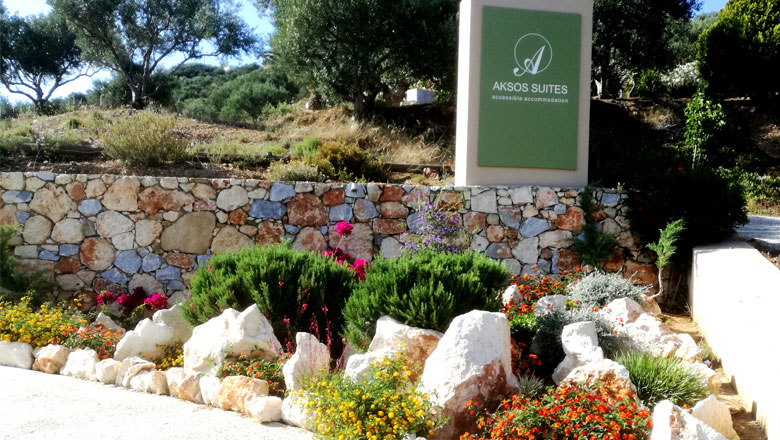 Ideal Crete
Crete, is an ideal holiday destination for everyone with exceptional beaches, picturesque towns, traditional villages, amazing cuisine and innumerable historic and cultural tourist attractions.
It is a blessed island and an ideal destination, everyone  deserves a memorable and relaxing holiday.
We at Aksos Suites Accessible Accommodation, aim to make this true.